How to win her back? Has your relationship ended in a cataclysm of anger, with your ex-girlfriend hating you? Don't worry, because all is not lost.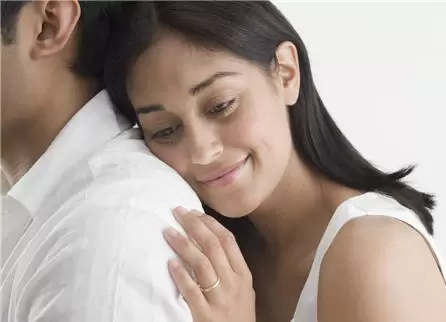 The question of how to win her back, is not an easy one to answer, but that's exactly what we will do, giving you advice on how to win her back, how to win her love back and how to make her yours again.
Keep reading to learn more.
Do Not Reciprocate Her Anger
The worst thing you can do when your relationship ends, is to engage in a shouting match with your ex. It doesn't matter who was at fault, it doesn't matter if her anger is unjustified, if she cheated on you and if you did nothing wrong — do not get angry.
If you do, she will only hate you more and when she looks back on the relationship, the only enduring memory will be of the hatred she felt for you at that moment, and of your angry, red face as you screamed and shouted at her.
Here is the bottom line: To win her love back, you need to remain calm. You need to be the better person.
So, stand tall and proud, do not succumb to anger. Do not cry, do not shout, do not let your emotions get the better of you.
There is a lot of information out there that can tell you how to win her back, including this video, which covers this subject in-depth and tells you all that you need to know.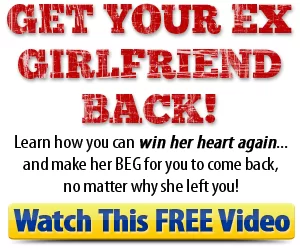 Give Her Time To Calm Down
That anger will stay with her for some time, and there is very little you can do to shift it. So, do not hassle her straight away and give her time to calm down.
If you want to know how to win her back then be patient, because the answer will come eventually and being impatient at this stage will simply end your chances of that happening.
Think about it this way: the last time you were really angry with someone, did their continued presence and their insistence that you talk to them help you to calm down?
Of course not. It probably made you even more angry, to a point where you lost all of the positive feelings you had for that person.
This is not only an important answer to the question of how to win her heart back, but it will ensure that her heart still harbors some feelings for you.
Do Not Break The No-Contact Rule
If there is one thing that you take away from this article, one thing that sicks with you, then it should be the "No-Contact Rule".
All of this information is crucial to helping you mend your relationship, but the no-contact rule is even more essential and could be the difference between reestablishing your relationship and never seeing your ex girlfriend again.
Simply put, you need to avoid making any sort of contact with her. This is an extension of giving her the time to calm down and applies for at least a couple of weeks.
You will feel the need to contact her, that's normal, but suppress that need. No phone calls, no text messages, no social media messages.
Not only will this stop her from hating you, but it will give her time to miss you, time to contemplate the life you had together and to ponder on whether or not she should take you back.
How To Win Her Back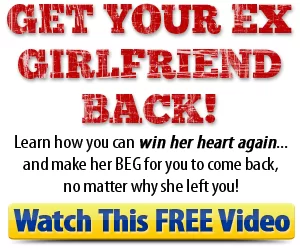 You have given her time to calm down and you have ensured that she doesn't hate you, so now you just need to take the final few steps.
Here's the deal:
Get Some Alone Time: You need to do what you can to spend some time alone with your ex girlfriend, time away from her friends and her family. They will tell her that you're no good for her and they will keep her away from you, but if you're alone together then her love for you may resurface.
Show Her What She's Missing: Improve your appearance, work harder, do more. Make her regret her decision and then show the new and improved you to the world.
Make Her Jealous: You don't need to be with someone else to make her jealous (although this helps) and you can simply get praise from young and attractive girls, making sure that your ex sees this praise.
Let Her Make The First Move: If you move to kiss her, then you could end your chances of getting back with her. So, let her make the first move.
Still want to know how to win her back? Watch this video, created by award-winning experts, to learn more. CLICK HERE
Continue To Be The Person She Loves
Once you have her back, you need to make sure that you never ask the question, "how to win her back" ever again. This is an important step, because if you simply go back to the way you were, then she will leave you again.
Check this out:
Communicate: A good relationship is built upon good communication. Always know what she wants, always express your concerns vocally.
Trust: For her to trust you, you need to trust her. Don't just be more trustworthy, but make a point of showing her that you are as well.
Friendship: Life-long partners tend to be the best of friends, so do all that you can to be her best friend as well as her boyfriend.
Commitment: Women like a man who can commit, a man they can settle down with. So, discuss having children, getting married and moving in together — find out what she wants and give it to her.
Enjoy The Rest Of Your Life
And that's it! You wanted to know how to win her back, and we answered as best we could. So, now you just need to go out there, give your girlfriend what she wants, get her back in your arms and then keep her there.
If you still have some questions about how to win her back, then we have dozens of other articles, videos and more that can help, so browse at your leisure.
Watch this video for more information on getting your girlfriend back.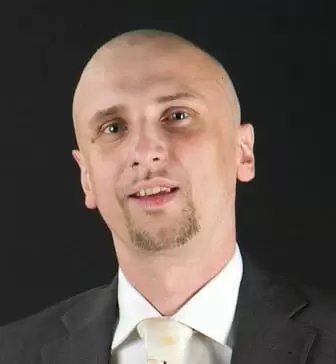 Yes, I like psychlogy. It is my passion for last 10 years. At the end it is all about what makes humans tick.